Do you want to own a home that makes everyone jealous?
You don't have to be born with an eye for interior design to make your home look tidy and stylish, you just need to follow a few simple style rules that every interior designer swears by.
But the first step to a stylish home is getting rid of the items who shouldn't be there.The vase from our grandma, the old sofa from our parents, the books we never read yet take up so much space and the CD's we don't even like.They are so many items that we own that only occupy space and bring no value to our lives.
The ideal home should be a mirror of your personality, it should feel like home, surrounded by things you love not things you don't know what to do with!
Before you start remodeling your home, think about decluttering your home.Not all of us need it, but most do.The bathroom and the kitchen are usually the places more clutter-prone.From extra pots, mugs, and plates to half-empty bottles of shampoo and cosmetics we no longer use that filled the drawers of our cabinets.
This being said, let's look at a few tips on how to declutter and transform your nest is a welcoming home.
Make a list of all of the things you haven't used in a long time
We all store items hoping that one day we will use them, but we never do!
For example, you've probably had clothes that you don't quite like but you keep them anyway in your closet.
Take a piece of paper and split the paper in two, on one column think about the items that have indeed great value to you (emotional or monetary) and items you dislike or are broken.
If you aren't quite sure what to do with some pieces of furniture but you want to start remodeling your home right away, try contacting a self-storage company.
Look at the items on the other column, if some of them are in a good state yet you don't use them, considering donating them.The broken ones should go straight to the trash bin.
Pick a colour palette for your entire home
The best way to make your interior design look harmonious is to pick a colour palette.
This will not only help you be more organized when it comes to shopping for supplies but it will also make your home look like it was designed by a professional.
The next step is to determine what colors should be dominant in what rooms.For example, did you know that restaurants never use blue as a theme color?The reason behind it is because it suppresses the appetite.
A vibrant red may also be a bad idea for a bedroom or office space, especially if you choose to paint the walls red.This color doesn't affect only bulls, it makes humans more aggressive and nervous too, but of course to a lesser degree.
Find furniture suitable to the size of your home
Many of us buy chunky cabinets that take too much space or large sofas.
If your problem is a low ceiling, you can create the illusion of a height by buying low furniture.
Low wooden tables can come in handy when you want to create a minimalistic look yet choose wood for your coffee table.
Small rooms can be helped by bright colors on the walls and dark colors for the centerpiece or curtains.Colorful curtains and mirrors placed strategically can also create the illusion of a bigger space.
If you don't have enough space to store items you use on a daily basis, consider investing in coffee tables, ottomans, or beds with hidden storage.
Revive old furniture
We all have cabinets, beds, or even doors that look like they've been through a lot.
A layer of matte paint over an old cabinet can do miracles, this applies to bed frames and doors as well.
If you want to get a little bit creative, you can use wallpaper for cabinets to hide the wear and give a fresh look to your cabinets.
When it comes to doors you can change the door knobs or modify them as kitchen tables.
Use art as centerpieces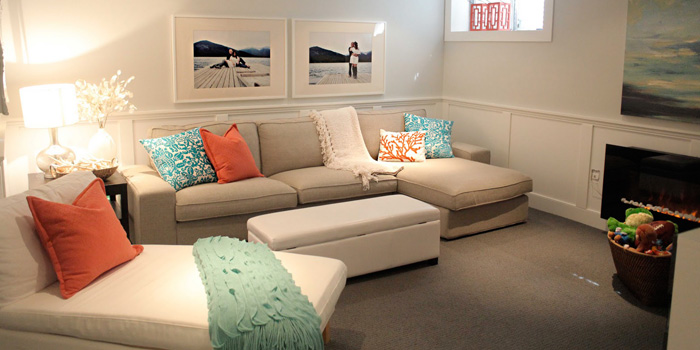 Who said expensive furniture has to be in the center of attention?
Minimalist paintings for modern houses or sculptures for your backyard will make your home look stylish on a small budget.
Nowadays you can order paintings that are printed in high resolutions and look like they are painted on canvas for as little as $20 and sculptures can be found on websites like eBay and craigslist for pennies.
If you have a home office, you should know printed quotes are in!
You can go online, find your favorite quotes, write them in a font that you think will look good on paper, print it and frame it. You've probably seen this trend before in offices. Framed quotes not only look good but they share a little bit about your personality and beliefs.
If you want to have a real canvas and paint on your walls grab leaves and place them on the canvas. Half of the canvas will be one color, the other half another.The area covered by the leaves will leave behind a beautiful silhouette that nobody will know you didn't paint it.
Contributed by: Alto Pro Painters, foremost experts in colour and design and making your home fresh and new with paint and accessories.