POPCORN CEILING REMOVAL
Textured ceilings were designed to help absorb sound and tone down echoes, which made them pretty popular in the past. Since that time, the design has fallen out of style, and is virtually never used in modern designs anymore. Unfortunately it is still found in lots of older homes. This probably has much to do with the fact that it can be incredibly difficult to remove.
While it might be tempting to go about removing it yourself, it's the sort of task that is best left to the experts. Not only is it a difficult job, but it may also present some safety concerns. When you are prepared to finally eliminate that popcorn ceiling, there are certainly a few things you need to consider.
POPCORN CEILING REMOVAL PROCESS
To understand the process of removing a popcorn ceiling, we must take a look at what it actually is. This spray-on or painted-on ceiling treatment used to contain white asbestos, but after the 70s, it moved to a paper-based or Styrofoam product to produce the texture. Removing it may develop into a much harder process, based on what type of material is used.
There is one thing we can guarantee when removing almost any textured ceiling treatment: it's going to become a multi-step process. We've presented the steps below to offer a notion of what it's like.
Want Our Paint Pros to Call You?
Fill Out The Form Below
THE PROCESS OF POPCORN CEILING REMOVAL AND PAINTING:
Removing light switches and fixtures from the room.
All furniture and floors are fully masked because of the large amount of residue, dust and material removed.
Unpainted stucco (popcorn ceiling) is easier to remove as it just requires a water-based solution which dissolves the stucco.
Painted stucco requires increased effort to remove and often results in further prep after removal because of the substrate being affected.
After removal, the substrate will need to be fully filled to provide a new flat finish.
New filling needs to be sanded and primed in advance of application of the final paint coat.
All removed material will then be vacuumed and cleaned up.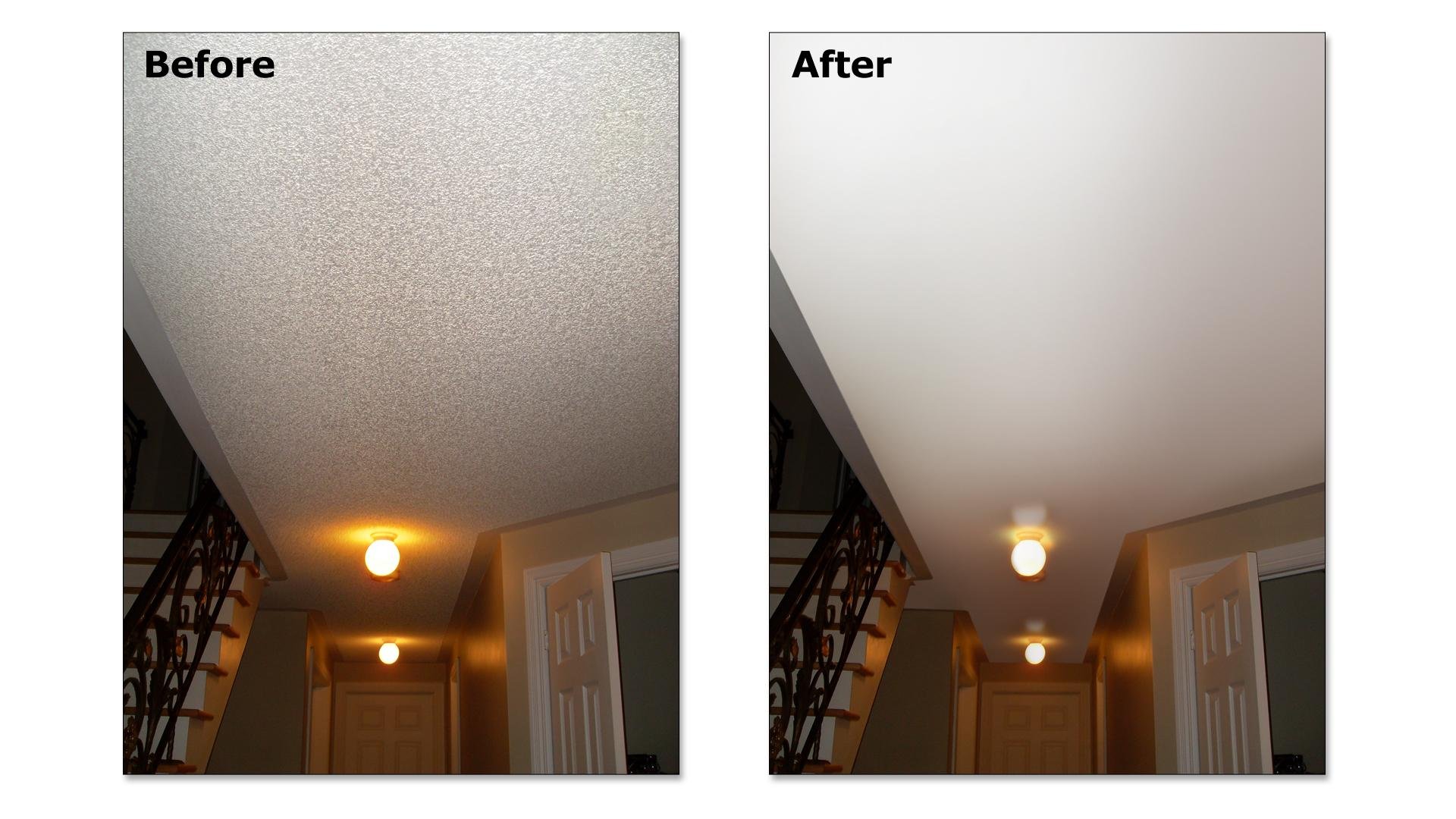 BENEFITS OF REMOVING POPCORN CEILING
So why should you undergo all that work to eliminate your popcorn ceilings? For starters, it offers your house an infinitely more sleek and modern look. You will end up surprised at simply how much better it looks! It's also a good idea to get rid of it if you are planning to sell your house soon. Many buyers will shy away from purchasing a home they know they will need to do extra renovations on in the near future.
From an aesthetic standpoint, when the ceiling surfaces start to become older, they can often begin to yellow. This could also happen if there is any water damage. In the long run, it is better to get remove the popcorn ceiling finish rather than painting over it again, as it will simply happen again.
POPCORN CEILING CONTAINING ASBESTOS
Before starting the process of removing your popcorn ceiling, there is one thing you will need to think about. As mentioned earlier, some older homes may have popcorn ceilings that contain asbestos and lead. If your home was built before 1981, it will need to be checked for these substances before you can begin removing it.
If asbestos or lead is present, this could make the process much more complicated. In this instance, the task must be done by professionals that are trained in working with asbestos. It is very important to take extra safety precautions, as breathing in the dust can be quite harmful. It is likely that you will have to completely seal off the area during the process, and you won't be allowed back before the painting is complete and all of the dust has been removed.
GET IN TOUCH TODAY!
If you have popcorn ceilings that you are ready to leave behind, we can help! Book a totally free, no obligation estimate for your interior painting job today.
Frequently Asked Questions
The short answer is "no". We must build a complete containment area for each room to isolate and to protect the environment you live in.
Some small jobs can be completed in 1 day but, most homeowners can expect 2-3 days depending on actual square footage being refinished.
The short answer: If your home was built before 1981 then you would need a sample of your ceiling tested by a certified lab. Testing usually takes 24 hours.