Are You Looking For Top Affordable Calgary Kitchen Cabinet Painting, Refacing & Refinishing Services?
Considering the time we spend daily, kitchens are often one of the most elegant and contemporary features of a typical Calgary home. No matter what you're doing there, whether you're cooking, drinking, or baking, the kitchen is the center of the home. This explains why many residents in the Calgary area spend their money on their kitchen to any other room in the house. So, if you think your home needs a new paint job, you must consider the kitchen section.
Painting kitchen cabinets has proved to be the simplest and most constructive way of changing the outlook of your kitchen. Kitchen cabinets are costly household units that aren't replaced easily because of the prices involved and their appearance. Hence, residents often call us to refurbish their cupboards. Our services include; painting, staining, or refinishing kitchen cabinets, determined by the goals our clients want to reach for their future kitchen.
You could renovate your kitchen with a fresh coat of paint and save yourself a depleted bank account. Changing your kitchen cabinets is an unbelievably expensive option. Painting them can be seen as a tiresome venture. Ensuring they look spectacular is a challenging task to take up all on your own. Therefore, choosing to paint your kitchen cabinets is a sure way to increase the aesthetic value of your home without the costly renovation. Benefits are it will look beautiful, and the ugly display you once cringed at will become history.
All you need to do is to relax. Save the stress for the experts and let us do the dirty work. Extraordinary looking kitchen cabinets are a telephone call away. We know the exact type of paint that will refinish your kitchen cabinets with the best outcome.
Exceptional Refinishing of Kitchen Cabinets in Calgary
Previously, we discussed that your kitchen is the center of your home. If you ever think about putting your house for sale, then it will be a great plus point to grow its monetary value to limits beyond your imaginations.
More so, people who use their kitchen daily will understand the shuddering noise that kitchen cupboards can make. Along with the chipping of the paint on the cabinet, caused by steam, will encourage the growth of mold, endangering human health.

Free Color Advice
We have the appropriate skills and designs available to achieve the style you hope to get. Also, we offer you a multi-color consultation! Update your kitchen cupboards to a new clean look that makes you feel thrilled to be in your kitchen.
Besides, we will supply you with high-quality renovations without making you go through the additional time, fee, and disarrangement concerned with ripping out and changing your current kitchen cabinets.
Sounds like a good deal? Well, if you're satisfied with the appearance of your existing kitchen cabinets but don't like the finish, the best decision for you to make is to give our Calgary cabinet painting and refinishing services a chance.
By spraying a long-lasting and high-grade cabinet varnish, we accurately pair any selection you make and refinish your kitchen to your taste. Our cabinet painting services are in-depth, and we make use of top-quality products and materials to ensure the durability of your cabinet finish.
However, if your kitchen cabinets are already in ship-shape, it would be essential for you to refinish them. Repainting your kitchen cabinet or staining it is a time-efficient project you can consider. Your Calgary kitchen cabinets can be painted and refinished to achieve the luxurious look you have always dreamt of.
Here in Calgary Painters, we are ranked one of the top painting artisans who can perform numerous and high-quality services. Our kitchen cabinet painting/ cabinet door staining is the most demanded and distinctive service we offer. Irrespective of the material type or age, we have adequate experience to manage your kitchen painting assignment.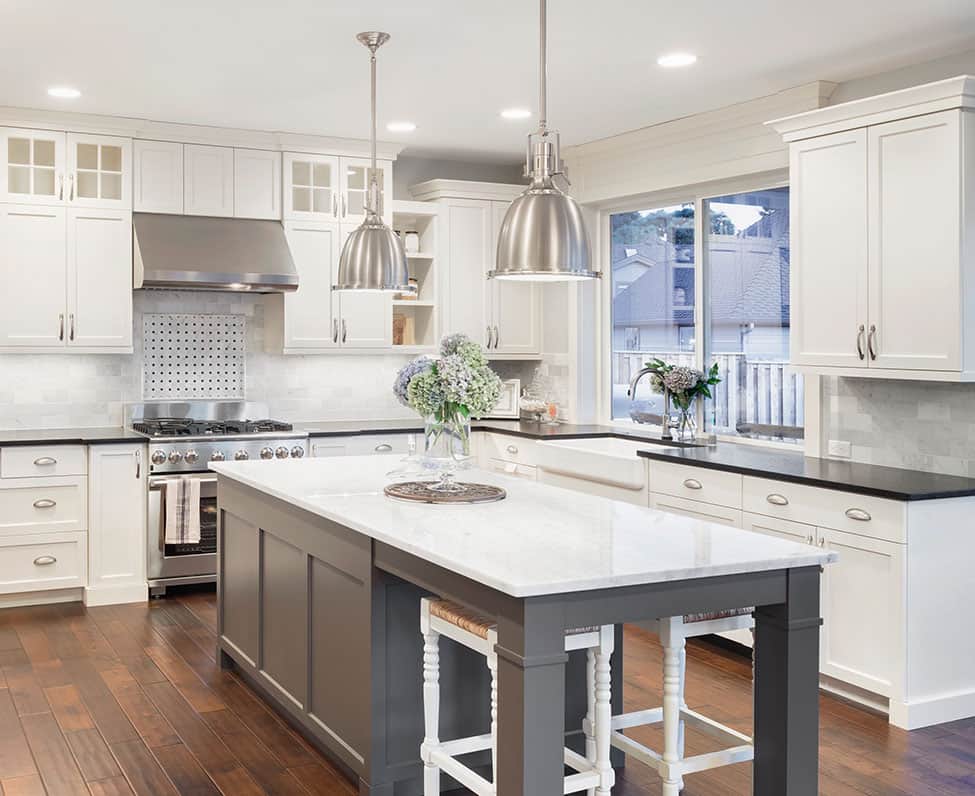 Should you paint, stain or reface your Kitchen cupboards?
Calgary residents are economizing their money by opting for kitchen cabinet refacing, which is far more conservative than a total change of the existing kitchen cabinets. Tools like hinges will assist you in completing your cabinet renovation. You have the option of sanding, painting, or staining the inside for a total new outcome. This remodeling can provide your kitchen with an exquisite look and is cheaper than buying span-new cabinets. We offer you cheap and modest Calgary kitchen cabinets and refacing services.

What's unique about us?
We make sure that:
All the removable compartments will be sprayed with our equipment.

The remaining stationary items are brushed and rolled here on-site.

The doors are coupled together to finish – leaving them looking brand-new!
The right way to do Kitchen Cabinet Painting
Size Does Not Matter
The mannered and experienced professionals are always excited to lend you a helping hand with proper cabinet renovation. The type of surface of your cabinet is no concern – our team of expert artisans can quickly revive any wooden, melamine, or old painted kitchen cabinets. If you are not precisely persuaded that the paint would last for a long time, we will go-ahead to perform a paint adhesion test on an unnoticeable area of your cupboards and cabinets. However, beware that the professionals will not repaint kitchen cupboards that have been coated with wax because the surfaces are too greasy for the paint to stick to efficiently.
Cabinet parts will be provided with expert assistance
The reliable and experienced kitchen cabinets painters in Calgary will ensure that all removable (and non-removable) parts of your furnishings will remain untouched by the bright shades of color. At the start of your kitchen cabinet refinishing process, we will unfasten any removable handles, doorknobs, doors, or drawers and carefully put them at one side. Once they renovate the kitchen cabinets in the color you picked, they can either re-install these parts of your home back to normal or change them with brand new models that will better fit your interior design. Also, our pros will ensure that the area around them is covered before conducting the kitchen cabinet painting check.
100% guarantee that your Kitchen Furniture will be kept safe
Have you ever tried to paint kitchen cabinets before? If you have, then you will agree with me that it can be a messy job. The painters that will be sent to your door will be experienced on how to hold their paintbrush correctly, and how to adequately guard the rest of your furnishings from any drop of paint.
The Reason why Alto Pro Painters is the best deal for your Kitchen Cabinets
At Alto Pro Painters in Calgary AB, our primary concern is the needs of our customers. We visualize ourselves as a very reliable & original business that provides various services such as;
Customer-orientated Calgary kitchen cabinets refinishing and refacing company.

Working with your budget in mind to give you a complete customer gratification.

Unrivaled quality work that is appropriate for the fee.

Making use of the top quality resources to complete the task.

Completing our work with a quick turnaround to ensure we don't encroach in your everyday lives.

Customer questionnaire and reports during the whole working process so that we can give the best service to our loyal customers.

Keeping our working space neat to discourage the growth of mold by using water-resistant paint.
Our professionals are cautious while working. They work for and with our customers to make sure all plans go hitch-free. We have educated our experts with the following skills:
Customer care communication ability:

We equip our experts with communication skills that aid them in carrying out their job. This reduces miscommunication that can lead to mistakes in the finished product.

To focus on finishing the job without thinking about the remittance:

We don't allow our experts to worry about how they would get paid. Their only job is to give you the best possible service.

Expertise and unrivaled experience from our end are assured to our customers:

Normally, our first-time clients end up working with us for a long time because they enjoyed the experience they got from us. With over ten years of experience, Calgary Painters' staff is a confirmed gold member of the business market.
FAQ
Is it cheaper to reface or paint kitchen cabinets?
While painting tends to be the cheaper of the two, painted cabinets build up grease and dust more easily than refaced cabinets, so they'll require more maintenance. Refacing your cabinets means replacing all the front-facing parts of the cabinet (doors and drawers), but leaving the rest in place.
Is painting kitchen cabinets a good idea?
When refacing the cabinets, consider freshening up the interiors too. They can be sanded, painted, or veneered for a completely new look. Adding handy functionality, like pull-out drawers and rotating shelves is another great option.
Is it worth it to reface kitchen cabinets?
Recommendation. Cabinet refacing can be a good, cost-saving option for kitchen remodeling if the existing cabinets are well-constructed and in good shape, and where a radically different look is desired. It is also a good choice where the existing kitchen layout works well as it is.
Does cabinet refacing look cheap?
Refacing cabinets cost less than replacing your kitchen with custom cabinets, but don't rush to cabinet refacing on the assumption that it is a dirt-cheap alternative to new cabinets. … Expect to spend $200 to $500 for the veneer materials, plus the costs of new doors, drawer fronts, and hardware.
Contributed by: Alto Pro Painters Calgary AB. Foremost experts in Painting and cabinet refinishing